Otvorenie Skrill účtu
Skrill je rýchla a spoľahlivá on-line služba peňaženky. Hráči si môžu otvoriť účet a financovať ho prostredníctvom bankového prevodu alebo kreditnej/debetnej karty.
Odporúčame Vám SlotsMagic ako voľbu spoľahlivých a dôveryhodných online platieb. Trvá to len pá minút, takže môžete vyzvať svojich priateľov k hre na SlotsMagic!
It is very easy to open an account with Moneybookers. Just click this link to open one and select "Sign up now".
Upozorňujeme, že web je k dispozícii v rôznych jazykoch.
For English please select this link.
For Greek please select this link.
We have created a step by step guide to open a Moneybookers account if you need the extra help. Please click here.
Po zaregistrovaní sa a prevode financií na Skrill účet, budete môcť okamžite vložiť na svoje slotsmagic.com konto a hneď začať hrať a vyhrávať!
If you need help with depositing then you can access their FAQ's (Frequently Asked Questions) and then select "Deposit".
Skrill má zákaznícke call centrum na: +44 870 383 0232
Užitočný je taktiež on-line chat.
Minimálna čiastka pre vklad, rovnako ako pre výber, cez Skrill je 20 $; v skutočnosti nie je obmedzená suma!
Pri používaní Moneybookers pre vklad alebo výber v našom kasíne nie sú žiadne poplatky.
Inštrukcie
Otvoriť si konto na Skrill zahŕňa len štyri veľmi jednoduché kroky. Začnite tým, že navštívite www.moneybookers.com/app/ a vyberiete možnosť "Sign up now" (Prihlásiť sa teraz).
Typ účtu
Overenie E-mailu
Osobné informácie
Potvrdenie
Skrill vyžaduje nasledujúce informácie pre zaistenie Vašej identity.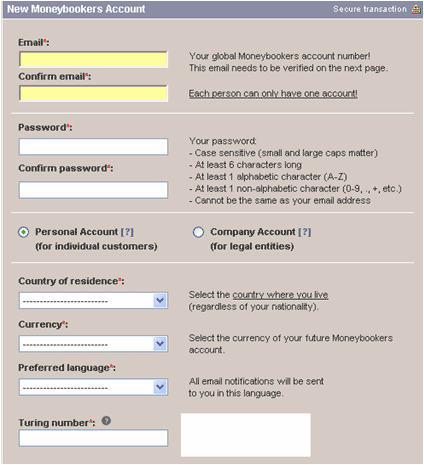 Akonáhle ste dokončili túto stránku, overovací e-mail s odkazom bude zaslaný na Vašu e-mailovú adresu.
Skontrolujte svoj e-mail a kliknite v ňom na odkaz pre overenie Vašej e-mailovej adresy. Následne pokračujte v procese registrácie.
Alej zadajte všetky svoje osobné údaje.
Akonáhle vyplníte svoje údaje, kliknite na tlačidlo ďalej (next).
Následne dostanete potvrdenie Vašich údajov.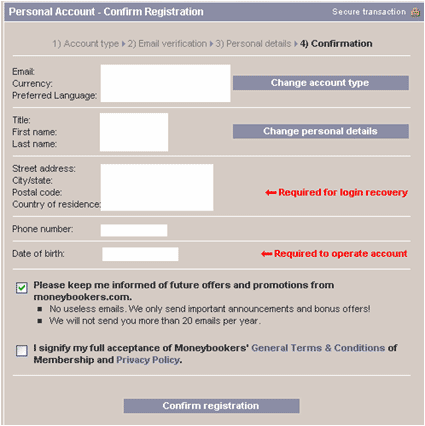 Začiarknite políčko súhlasím so Zmluvnými podmienkami a kliknite na Potvrdiť registráciu. Úspešne sa Vám podarilo vytvoril Skrill účet.