Otvorenie Webmoney účtu
Otvoriť si účet na Webmoney, ak úž jeden nemáte, je naozaj ľahké. Stačí kliknúť na tento odkaz a otvoriť si ho.
Akonáhle sa zaregistrujete a prevediete financie na svoj Webmoney účet, budete môcť okamžite vkladať na svoje ##SKIN_DISPLAY_NAME konto## a hneď začať hrať a vyhrávať!
If you need additional help, click here to access the Help Desk page on their website.
Pre technickú podporu prostredníctvom e-mailu prosím kontaktujte našu Zákaznícku Podporu na [email protected].
You can also contact the WebMoney technical support call center. You can find this on their Contact page on their site.
Na zozname nižšie sa nachádzajú medzinárodné čísla Call centra technickej podpory:
+7 (495) 727-43-33 – Moscow.

+7 (812) 336-43-18 – St. Petersburg.

+1 (212) 202-66-06 – United States.

+44 (203) 239-60-39-Veľká Británia.
Inštrukcie
Start by going to //www.wmtransfer.com and select your desired language from the top right hand corner. Once you are ready press the "Sign Up Now" button.

K dispozícii sú 4 kroky otvorenia si Webmoney účtu a prvým z nich je zadanie a potvrdenie Vašich osobných údajov.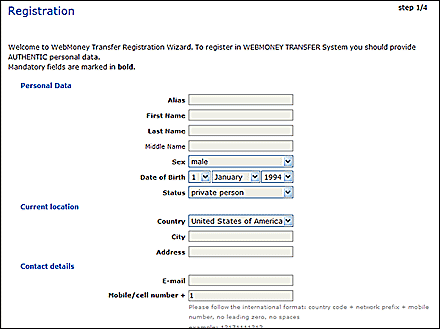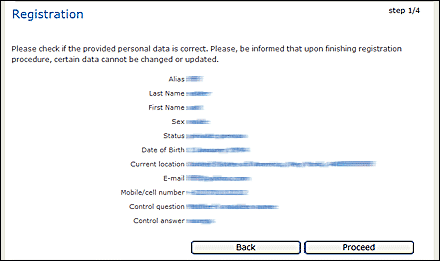 Nezabudnite, že všetky informácie musia byť presné, aby ste mohli pokračovať ďalej.
Druhým krokom je zadanie registračného kódu zaslaného na emailovú adresu uvedenú vo Vašich osobných údajoch.

Táto stránka obsahuje pokyny pre odosielanie SMS z Vášho telefónu pre mobilné / telefónne overenie.
Vyčkajte potvrdenie a pokračujte.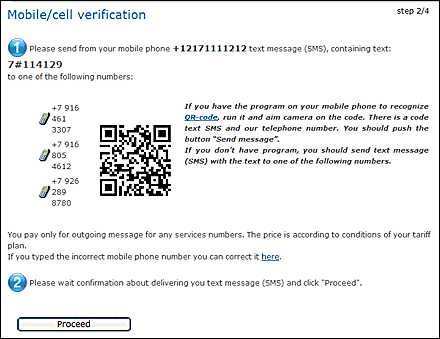 Akonáhle nám bude Vaša SMS doručená, zašleme Vám potvrdzovaciu správu.
Akonáhle dostanete potvrdenie, kliknite na "Pokračovať", vytvoríte si účet a dokončíte proces registrácie.